Jonesboro High celebrates naming of Douglas Brothers Court
Clayton News Daily – By Doug Gorman Staff Correspondent on Feb 5, 2023, Updated Feb 6, 2023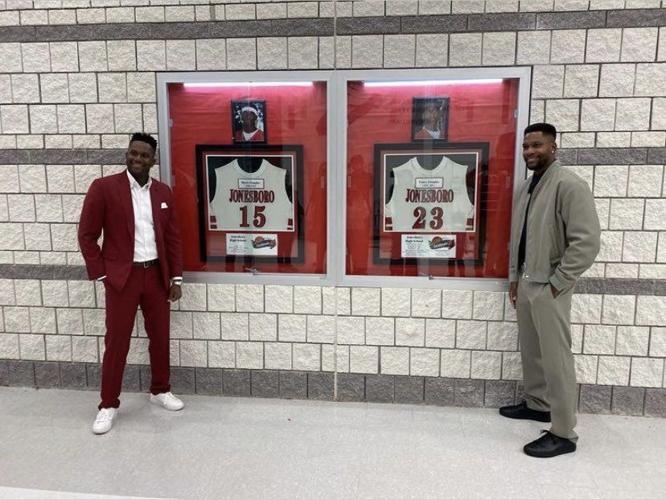 When Harry and Toney Douglas IV were students at Jonesboro High School in the early 2000s, they put the Cardinals on the high school basketball map in Georgia.
The dynamic duo led Jonesboro to the state title game in 2003 before falling to a talented Wheeler team in a game played at Georgia Tech.
Jump ahead 20 years later and the Douglas brothers still cast a big shadow across not just their alma mater, but all of Clayton County.
Recently in front of a packed Jonesboro High School Gymnasium, the brothers were honored with the naming of the basketball court.
Both brothers left Jonesboro with a long trail of athletic honors before embarking on impressive college and pro careers.
Harry, who is a year older, was a two-sport athlete, and chose football when it was time to sign his letter of intent. He enjoyed a highly decorated career as a sure-handed wide receiver at the University of Louisville.
Harry went on to play 10 years in the NFL, including seven with the Atlanta Falcons.
Toney began his basketball career at Auburn, before transferring to Florida State. Toney was a first-round draft pick by the Los Angeles Lakers before being traded to the New York Knicks. He also made NBA stops in Houston, Sacramento, Golden State, Miami, and New Orleans. He also has spent time with pro leagues overseas.
Both Harry and Toney's high school basketball jerseys are retired at Jonesboro.
According to the Elias Sports Bureau, the Douglas are just one of six brothers to play two different pro sports.
At Louisville, Harry put up some eye-popping numbers as one of its top receivers from 2004-2007. Harry left Louisville ranked second all-time in career receiving yards with 2,924. His 13 receptions against rival Kentucky in 2007 is still a school record.
He earned second-team All-American honors as a junior and was twice first-team All-Conference. He had four 150-yard receiving games, which is tied for second at Louisville.
Toney's basketball accolades are just as eye-popping.
At Auburn, he was named a freshman All-American. Once he transferred to FSU, the accolades continued to pour in. Toney led FSU to its first ACC Championship game and was a finalist for the Bob Cousy Award as the best point guard in the country on the way to All-American honors. In 2009, Toney led the ACC with 21.9 points per game. He also won several awards for his outstanding defensive play.
Toney finished his FSU career with 1,665 points, which ranks fifth. He is still in the top 10 in seven different categories at FSU.
Both brothers are also in their college's athletic Hall of Fames.
Their former coaches had high praise for the talented, athletic duo.
"Everybody knows what a great football player Harry was, but he could have been a Division I basketball player if that was what he wanted to do," former Jonesboro basketball coach Mack Cain said. "We were always getting calls from college basketball coaches. I think it worked well for him."
Cain coached at Jonesboro before moving on to Northgate High School in Coweta County. He is now retired.
Dan Maehlman was an assistant coach on those Douglas-led Cardinals teams and has spent several years as head coach at Jonesboro after Cain left for Northgate.
He still remembers watching in awe as the brothers worked their magic on the basketball court.
"They were amazing. They did things that were just so impressive," Maehlman said.
Thanks to parents Harry III and Stephanie the brothers were taught to give back to the community from an early age.
In addition to putting emphasis on academics and athletics, their parents made sure they were involved in service projects.
The brothers often volunteered at local hospitals.
It's a lesson the brothers still carry with them long after graduating.
The Douglas Brothers Foundation is a non-profit community outreach organization that gives back to Clayton County by donating books, toys, coats, school supplies and food to those in need.
Harry and Toney both reminded the overflow crowd of students who were in attendance for the game between Jonesboro and rival Lovejoy to follow their dreams, but also have a backup plan that starts with a strong academic base.
Both left school with college degrees.
Harry has entered the world of broadcasting and is employed by ESPN.
Toney still plays for S.L. Benfica, a professional team in Portugal.