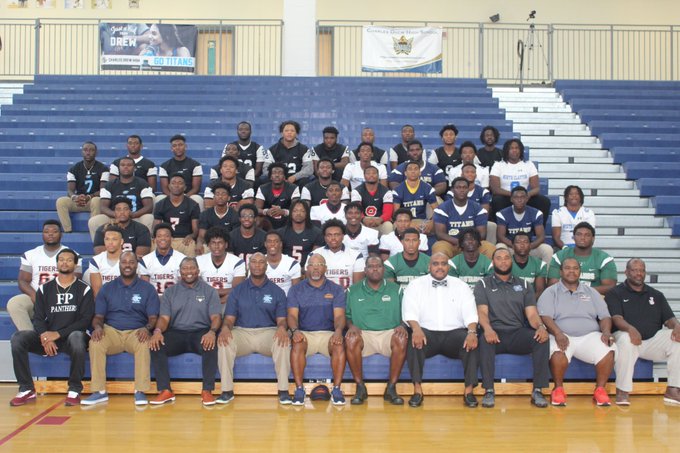 (Picture: Head Coaches from Left to right: Gerren Griffin (FPHS); Derrick Smith (Asst. Coach, LHS); Steve Robinson (CDHS); Edgar Carson (LHS); Dwayne Davis (MMHS); Jerome Weaks (MHS); Rodney Hackney (RHS); Cap Burnett (NCHS); Kevin Jones (MZHS); & DeTimothy Floyd (JHS) ).
Clayton County Athletics held their football media day on July 18, 2019, at Charles Drew High School. The nine high schools brought several players to discuss their hopes for the football season. The media coverage was covered by the Clayton News Daily and Real Talk Sports. Media Day had a common theme among all our teams. They all want to make a huge impact on all the positive things they will accomplish on & off the field.
Morrow's Jabari Tucker, Anthony Brett, Owein Blas, & Javonte Chapman all stated people are "sleeping" on them. Jabari (WR/DB/#2) mentioned they are going to take one game a time. They contribute their mindset to leadership.
Charles Drew's Tashawn Noah, Blake Page, Montrell Henderson, Quintrell Henderson, & Jyree Dodson. M. Henderson (OL, #63) says they are ready to conquer their region.
Riverdale's Derwin Burgess, Phalon Daniels, Leo Riley, Kysen Hogan, Jaylin Finely, Chris Giles, & Tremain Moore. Daniels (RB, #9) stated their "Don't Flinch" motto sums up everything they plan to accomplish this season on & off the field as a team.
Mundy's Mill Ryan Nobles, Crushon Jackson, Corey Climpson, Cameron Barnes, Quinton Green, & Raheem Gaines all agree they want to pursue "greatness". They stated the leadership is more student-lead, which they contribute to the cohesiveness of the team.
"Respect the Park" is the motto this year as Mitchell McLeod, Demetrius Taylor, & Eric Foster mentioned during media day. They are committed to the process of new leadership and plan to set the stage.
North Clayton's Courtney Colbert, Onuma Dieke, Derrick Dixon, & Terry Essex represented at media day. They believe their team is more focused on competing this year. They stated their coaches have been pushing them to build character and lead by example.
Khalil Arnold, N'Zoyn Poole, Zion Nwokocha, Cornelius Edmonds, Xavier Sinkfield, & Barren Johnson are representing Lovejoy at media day. Arnold (QB) & Poole (WR) stated they are "hungry & ready for the state to know who they are as a team".
Jonesboro's Walter Forte, Rasheed Singleton, Eugene Orr, William Tims, & Isaiah Rice on media day. They contribute their team chemistry to playing together since 9th grade & sticking with the team.
Mt. Zion's Kameron Wilson, Phillip Wilder, Keymareon Boone, Derionte Kemp, & Tyjuan Rogers at media day. Louisville's commit Kameron Wilson (OLB) feels this is the best team from MZHS in years.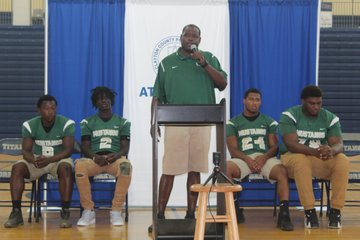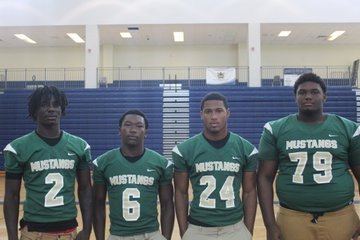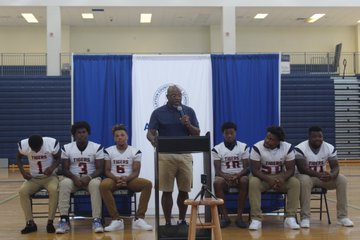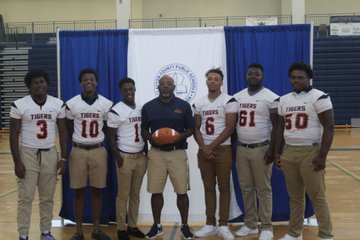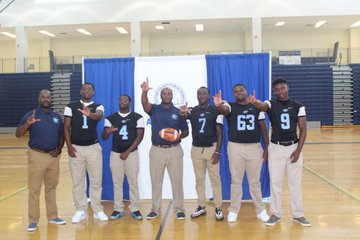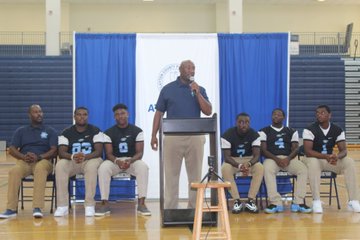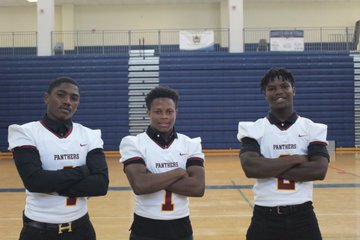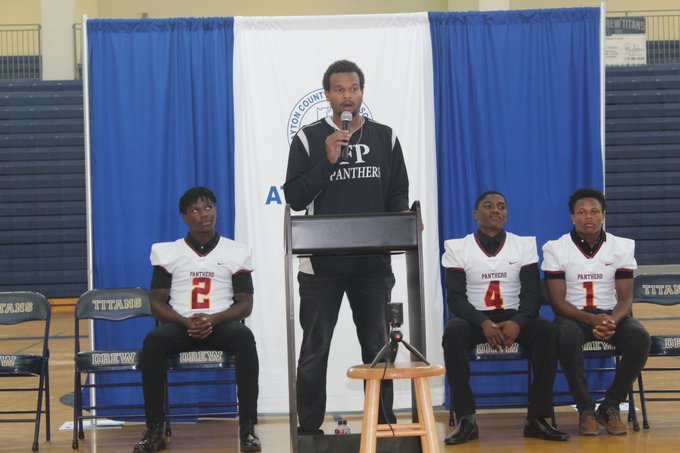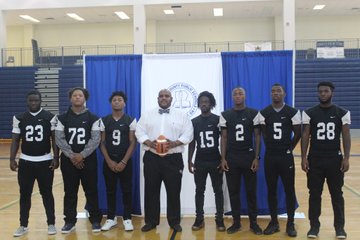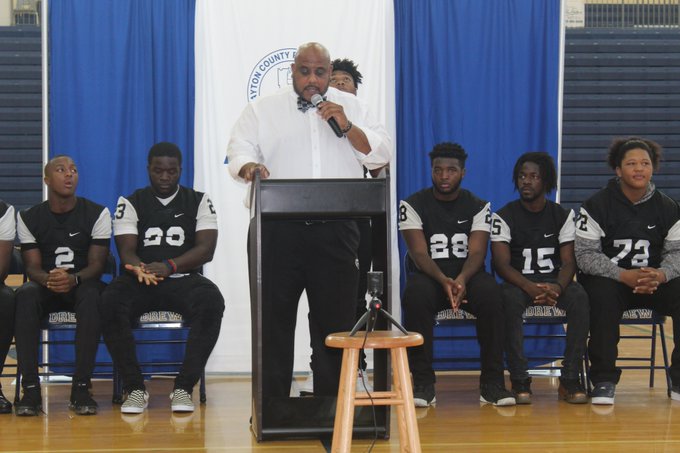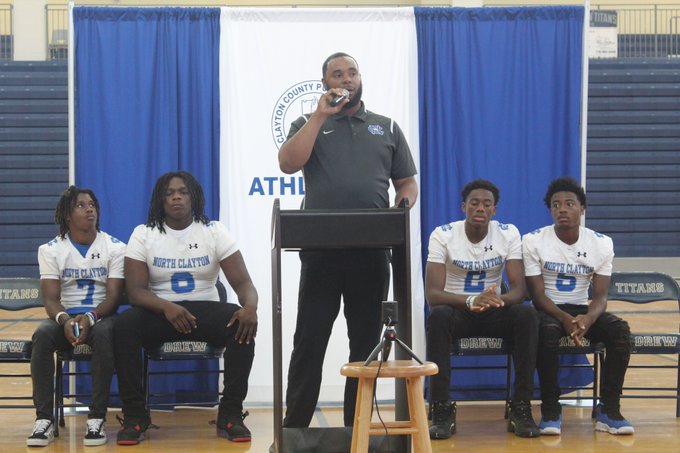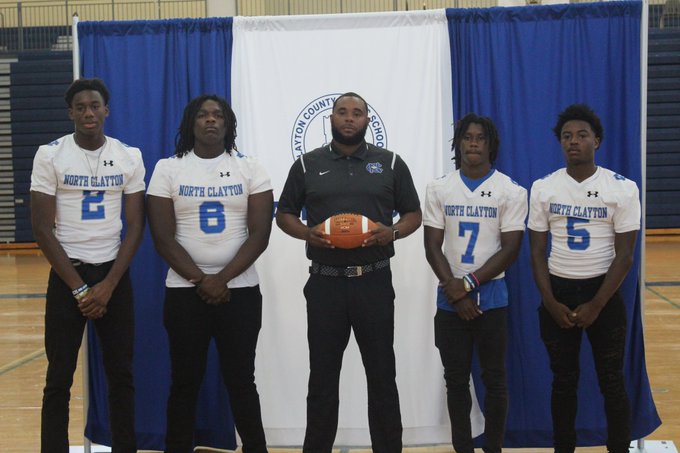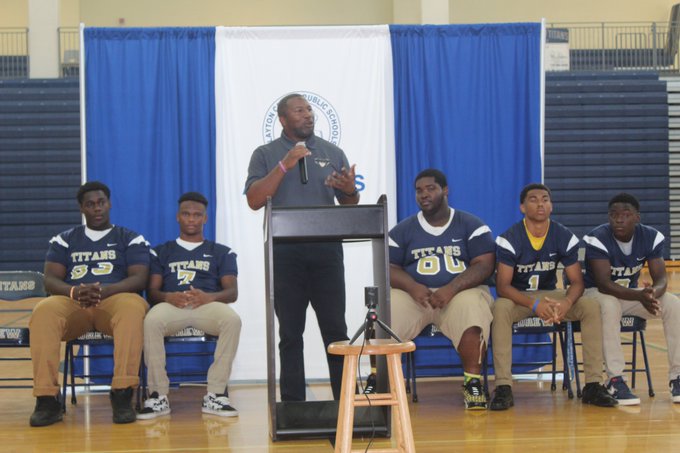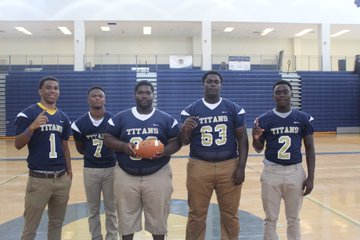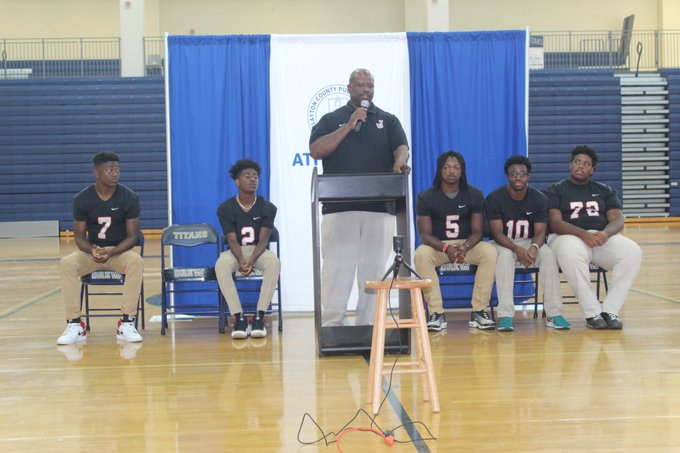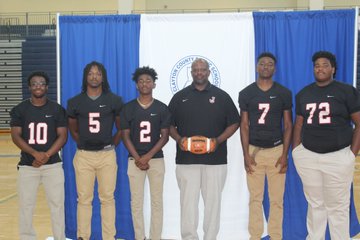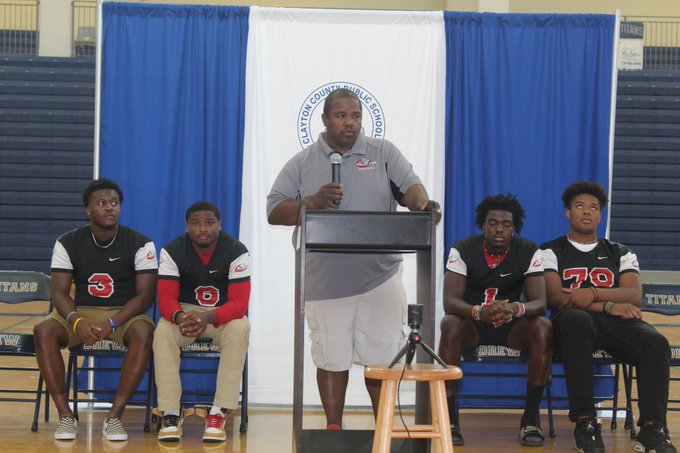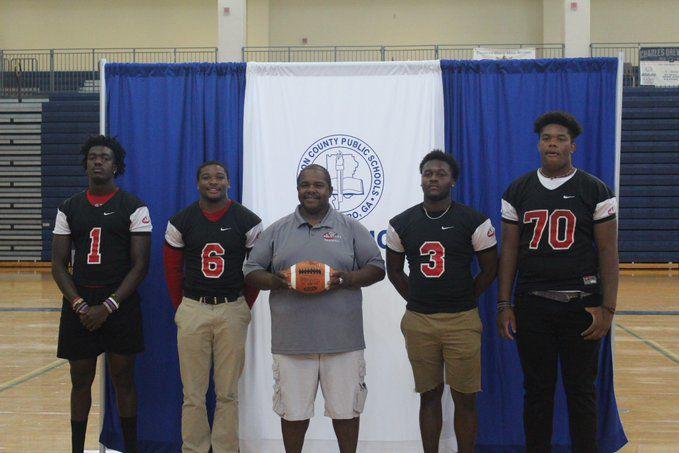 2019 CCPS Football Media Day- Student-Athlete Participant
Drew HS
| | | | |
| --- | --- | --- | --- |
| Jersey # | Position | Player Name | Class |
| 10 | WR | Skipp Noah | Sr |
| 6 | QB/DB | Blake Page | Jr |
| 63 | Dl/OL | Montrell Henderson | So |
| 60 | OL/DL | Quintrell Henderson | Sr |
| 7 | DB/WR | Jyree Dodson | Jr |
Forest Park HS
| | | | |
| --- | --- | --- | --- |
| Jersey # | Position | Player name | Class |
| 2 | WR | Mitchell McLeod | Sr |
| 4 | WR | Demetrius Taylor | Sr |
| 21 | Cornerback | Eric Foster | Sr |
Jonesboro HS
| | | | |
| --- | --- | --- | --- |
| Jersey # | Position | Player name | Class |
| 7 | DB | Walter Forte | Sr |
| 2 | WR | Rasheed Singleton | Sr |
| 62 | OL | Eugene Orr | Sr |
| 5 | LB | William Tims | Sr |
| 26 | RB | Isaiah Rice | Sr |
Lovejoy HS
| | | | |
| --- | --- | --- | --- |
| Jersey # | Position | Player name | Class |
| 1 | QB | Khalil Arnold | Sr |
| 7 | DB/WR | N'Zoyn Poole | Sr |
| 8 | LB | Zion Nwokocha | Sr |
| 20 | OLB | Cornelius Edmonds | Sr |
| 63 | OL/DL | Xavier Sinkfield | Sr |
| 4 | RB | Barren Johnson | Sr |
Morrow HS
| | | | |
| --- | --- | --- | --- |
| Jersey # | Position | Player name | Class |
| 1 | WR/DB/QB/PR/KR | Jimmy Calloway  | SR |
| 2 | WR/DB | Jabari Tucker | SR |
| 6 | LB/RB | Anthony Brett  | SR |
| 24 | LB/RB | Owein Blas  | SR |
| 79 | OL/DL | Javonte Chapman  | SR |

Mount Zion HS
| | | | |
| --- | --- | --- | --- |
| Jersey # | Position | Player name | Class |
| 1 | OLB |                               KAMERON WILSON | SR |
| 70 | OL | PHILLIP WILDER | SR |
| 15 | FS | KEYMAREON BOONE | SR |
| 6 | RB | DERIONTE KEMP | SR |
| 3 | QB | TYJUAN ROGERS | SR |
Mundy's Mill HS
| | | | |
| --- | --- | --- | --- |
| Jersey # | Position | Player name | Class |
| 10 | QB | Ryan Nobles | SR |
| 6 | RB | Crushon Jackson | SR |
| 50 | DL | Corey Climpson | SR |
| 3 | LB | Cameron Barnes | JR |
| 61 | OL | Quinton Green | SR |
| 1 | RB | Raheem Gaines | Sr |
North Clayton HS
| | | | |
| --- | --- | --- | --- |
| Jersey # | Position | Player name | Class |
| 5 | QB/DB |                               Courtney Colbert | Sr |
| 2 | TE/DE | Onuma Dieke | Sr |
| 7 | ATH | Derrick Dixon | Jr |
| 6 | DL | Terry Essex | Sr |
| | | | |
Riverdale HS
| | | | |
| --- | --- | --- | --- |
| Jersey # | Position | Player name | Class |
| 2 | Athlete | Derwin Burgess | Jr |
| 9 | Running Back | Phalon Daniels | Sr |
| 72 | OL/ DL | Leo Riley | Sr |
| 15 | RB/ OLB | Kysen Hogan | Sr |
| 23 | OL/ DL | Jaylin Finely | Jr |
| 5 | WR/CB | Tremain Moore | Sr |