STATE VOLLEYBALL: Elite Scholars heading to championship match Saturday after 3-0 sweep of Harlem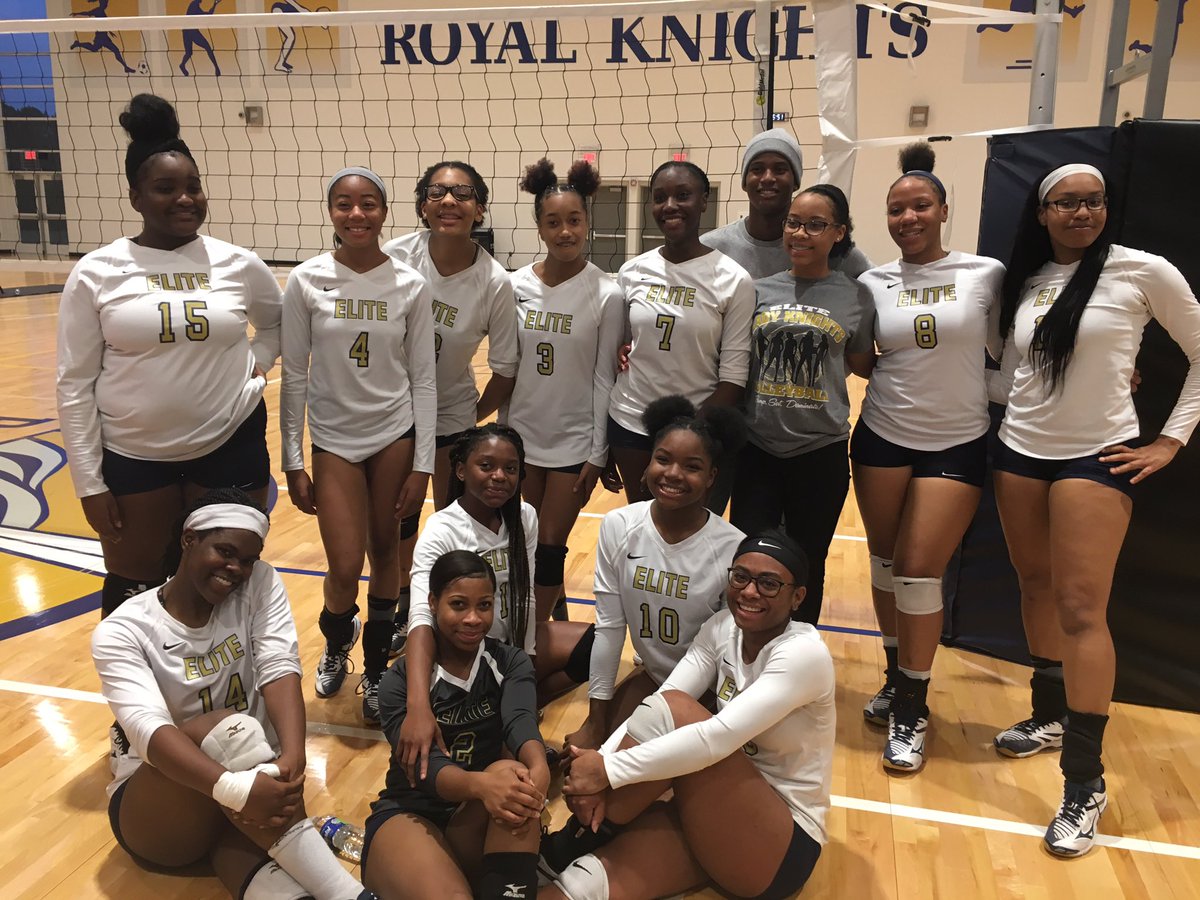 By: Darius Goodman of Clayton News Daily
Saturday, October 27, 2018
Elite Scholars Academy continues their march through the Georgia High School Association state tournament with a Final Four berth.
Elite Scholars picked up a victory Saturday night in three sets with scores of 25-10, 25-14 and 25-8 over Woodville-Tompkins. Elite Scholars will host the Harlem Lady Bulldogs (18-11) Tuesday. The Lady Bulldogs won over Rabun County 3-2 to reach the Final Four.
Tuesday, October 30, 2018
JONESBORO — State volleyball action continued Tuesday afternoon as the Elite Scholars Lady Knights faced Harlem's Lady Bulldogs in Final Four action but the Lady Knights walked through their competition to the championship after sweeping Harlem 25-14, 25-17 and 25-23.
"Relief," Lady Knights head coach Yolanda Jenkins said of her first emotions after the final point. "Thank God, they deserve it. It's a lot of different things that I was feeling. I'm just happy that the work that they do — that no one else sees in this state. They're now going to get a chance to see it. I'm just appreciative that the girls put in the amount of work to get this far. I won't say it was a long time coming but I will say that it's time."
The long road to the Class AA/A state championship continued for Elite Scholars Academy during their Final Four showdown with the Harlem Lady Bulldogs. During the first set of the night, the Lady Knights appeared to be outclassed as Harlem pulled out to a 3-0 start.
"I didn't expect us to start off slow but one of the things I was glad to see was they were able to play through it," Jenkins said. "Me not having to use a timeout to get them to refocus and recover to take the lead, I try not to get them to worry alot and I try to let them play and I feel like they could play themselves out of that."
Down 3-0, Elite changed the momentum of the game immediately and rattled off three straight points to tie the set up 3-3. Unfortunately, the Lady Knights struggled to build a definitive gap early as Harlem recaptured their lead and pulled back out to a 7-4 lead.
Elite battled back from the deficit and forced another tie, the second of the set with an 8-8 score. The battle between the two programs continued for a few moments as three more ties and lead changes found the Lady Knights ahead 13-12. With the lead in hand, Elite moved further ahead from their opponent.
A six-point lead turned into an 11-point set one victory with a score of 25-14.
In the second set of the night, Elite gave away the opening point of the set but a quick tie rose to a 5-1 lead. The Lady Knights had to stymie a near comeback from Harlem as the Lady Bulldogs moved in on a 6-5 score. Elite stopped the run with answers to every point but once the Lady Bulldogs jumped to a 7-6 deficit, it wasn't long before Elite put their foe away.
Four unanswered points became an 11-6 lead and Elite had full control of their opponent to a 25-17 set two victory.
With a 2-0 lead over Harlem, the Lady Knights were a dominant force throughout the final set. Harlem gave it a try for an upset and force Elite into a fourth set but the Lady Knights weren't going to be stopped on their route to their championship date.
 Harlem gave one more attempt in the final set but things didn't pan out as Elite battled back for the 25-23 victory and sealed their championship match at McEachern High School Saturday.
The Lady Knights will play at 1:30 p.m against the winner of the Gordon Lee/Coosa match.