Drew volleyball reigns supreme as county, region champions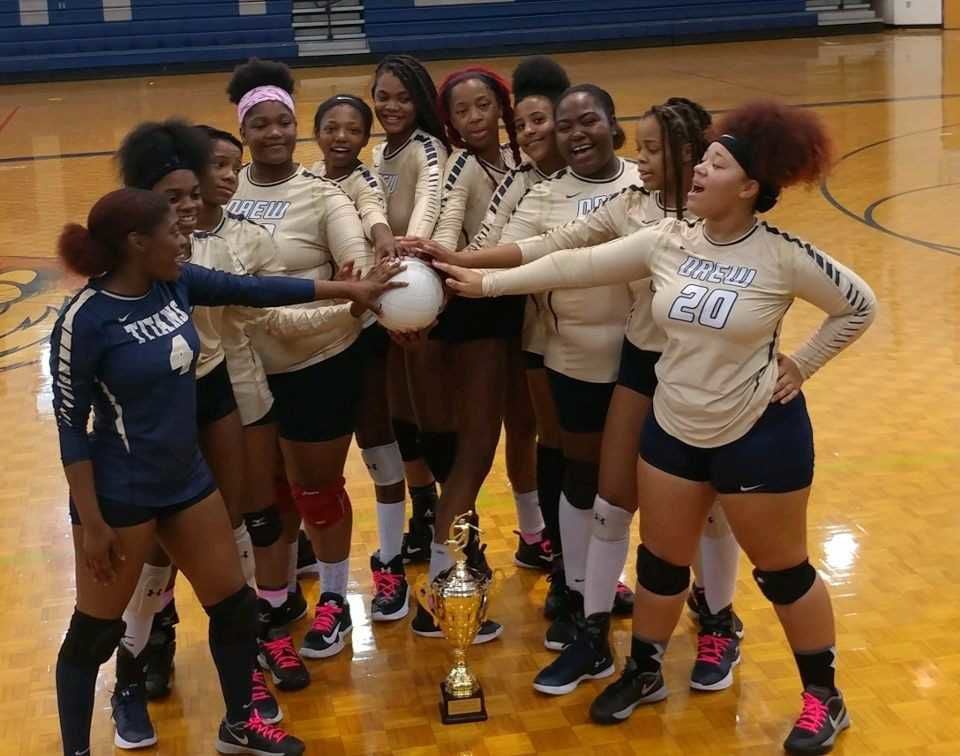 By Luke Strickland of Clayton News Daily
RIVERDALE — The Drew High School varsity volleyball team made it a clean sweep by winning the Region 4-AAAAAA championship over the weekend.
The Lady Titans, who are also county champions, will be the No. 1 seed from the region when the Class AAAAAA state tournament starts later this month. Drew beat Morrow in the championship match.
The program has been led by coaches Cathy Murray and Joirorion Walton, who have combined to oversee one of the best seasons in program history.
"From the beginning of the season, we've told them that they get to write their own story, it just depends on how much energy they want to put in," Murray said. "With that in mind, they went into learning and training and were receptive to the information we gave them."
The core of Drew's lineup is used to winning. The majority of the players on the team claimed championships together at Sequoyah Middle and have carried that tradition into high school.
"When they're training, it's easier for me knowing that they've been trained the same way for some time now," Murray said. "It's definitely easier."
Drew entered the region championship with plenty of confidence after claiming the county title a few weeks ago. Many Clayton County programs compete in Region 4, giving the Lady Titans experiences to plan from.
"They had more motivation and more confidence," Murray said. "It's the same schools we played all season, and with the undefeated season, we had the confidence we needed. The team is very humble, they don't celebrate too much, they don't get too excited. The region was not as tough as the county championship, they went in knowing it wouldn't be as tough."
Drew's success can be attributed to a deep pool of players that Murray and Walton can pull from. The versatility of the roster has given the Lady Titans matchup advantages throughout the season.
"I don't want to single out one player, they all get in the gym and they do it together," Murray said. "It was everybody staying focused on the fundamentals and what they've been taught."
Murry and Walton, meanwhile, don't fight for more limelight on the sidelines. The two coaches have built a strong relationship and only care about helping the team reach its goals.
"The relationship with me and coach Walton goes back a few years," Murray said. "We split up the team at practice, he works part of the team and I do the other. Then, we bring them together as a whole. He is an easy guy to work with and he loves the sport, which makes it even easier."
Drew will host the first round of the state playoffs later this month. The Lady Titans could wind up hosting three more times if they were to advance that far.
"This is the first time these girls are going to state, this is their first time," Murray said. "We're going to embrace the challenge and go out and fight like we usually do. Hopefully we leave knowing that we did our best. Whether that takes us to the top or the first round, as long as we do our best, we'll live with the result."