Getting to Know: Nate Wardlaw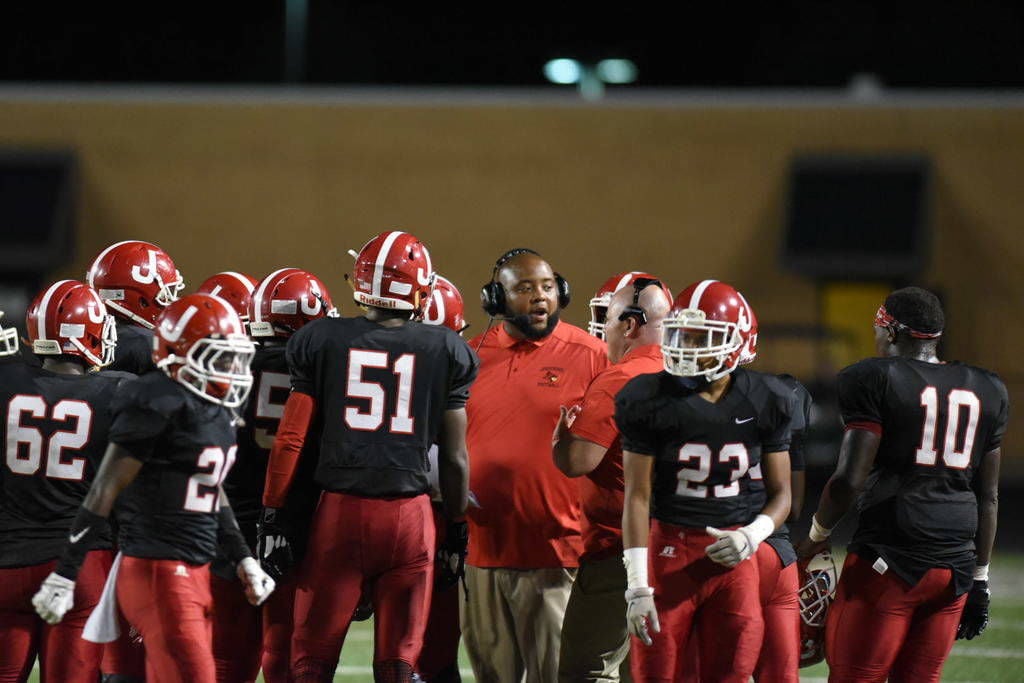 By: Luke Strickland
JONESBORO — Nate Wardlaw has a long history in Clayton County.
Wardlaw used to get after it in his own right at North Clayton High in the late 1990s as a standout football player. He has since taken on a coaching career at Jonesboro High, where he serves as the offensive coordinator and assistant head coach. Wardlaw is also an assistant coach with the basketball program, and has been a part of two state championship teams.
Sports Editor Luke Strickland spoke with Wardlaw about his coaching career and his love for Clayton County in our latest edition of "Getting to Know."
Nate Wardlaw: I would say my sophomore year in high school. I injured my leg at the beginning of the season and it sidelined me for the rest of the year. I spent that year helping my position coach with whatever he needed and I said to myself this would be fun to coach when I got older.
LS: Now that you have been coaching for a few seasons, what have you found is the hardest thing about the profession for you? The easiest?
NW: The hardest part to me is when you are unable to reach all the kids that you begin to try to empower. I know it's impossible to reach every kid, but when you see or hear one of your kids goes on the wrong path, it makes you feel like you've failed. The easiest part is the X's and O's. Anybody can teach kids the plays.
LS: In your opinion, what personality traits make a good assistant coach?
NW: I think the traits of any good assistant coach are simple. You must be hard-working, you must be driven by success bigger than yourself, must be humble and a team guy. A good assistant should never be looking for individual recognition.
LS: You are an important part of Jonesboro's football and basketball programs. How do you balance bouncing back and forth between the two sports?
NW: It's tough. I'm a competitor, so when one sport ends, which is usually football, I jump right into basketball. It's a great way to move on for me, plus the great group of kids in both sports makes it easier. But, I'm exhausted when basketball ends. I have to take a couple weeks to recharge.
LS: Those two programs are led by strong figureheads in Tim Floyd and Dan Maehlman. What are some things you have taken from them that you will carry with you for the rest of your career?
NW: Coach Floyd and coach Maehlman have been great assets to the overall growth for me as a coach. They are marvelous men. I've been a sponge to them as far as for the right way to lead men and kids. They have also instilled in me that it is bigger than wins and losses. It's about developing a family atmosphere, letting the kids know you really care about them, whether you win every game or if you don't win any. Also, the importance outside of the game. Whatever you coach or do can't outweigh the people who you love who will be there for you long before and long after the game is over. I could say so much more about those two guys. I genuinely love those two guys.
LS: Now that you have been an assistant for a few seasons, do you have dreams of being a head coach?
NW: Yes, I do desire to be a head coach in the future. It's also a dream of mine. When that happens, I will be forever grateful. Coach Floyd, Maehlman, (North Clayton) coach Cap (Burnett), who is a big brother to me, and a handful of other head coaches who I often converse with have been great people who are preparing me for when that time comes. Coach Floyd is exposing me to so many head coaching duties that it's really on-the-job-training. I feel it will be truly beneficial. But, I'm not rushing it. It's all in God's plan.
LS: Your roots are deep in Clayton County. Why is it so special for you?
NW: I love Clayton County dearly. I moved here when I was like 10 from South Fulton, and outside of college, it's been the only place I've lived. It's a dream come true to be able to coach the kids in the same county I grew up in. I want to see it prosper to one of the best counties in the state. Athletically, I would love to see football win another state championship. The first and last one was Morrow in '87. Lovejoy came close and I was rooting for them. I was on a great team at North Clayton in '97 that we felt would win the championship. We lost in the quarterfinals. Riverdale in '98, they had a really good team that made the semis. Our team in '15 at Jonesboro where I was coaching, we felt we could play for one along with Drew that same year. I think Mundy's Mill a few years back had a great team who tried to contend. There have been some great teams. I'm hoping that someone gets over the hump in the near future. In basketball, I have had the privilege to be a part of two state championship winning teams. It was special, a feeling you can't describe. I'm so grateful, plus to be able to do it in Clayton County means a lot. Bottom line — ClayCo is a special place for me.